It's been a few weeks since I last 'Poured my Heart Out' - and the
last time I did
, it was a difficult post to write. In
my post yesterday
, I hinted toward working through some things, but I'm not quite sure I'm ready to "pour out" about all that just yet.
So today, I thought maybe I'd go in a less "deep" direction
(mostly because I don't think I can handle getting too deep right now)
and
pour my heart out
about my
other
job - which I actually haven't written much about here before.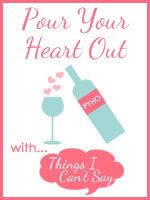 For those who don't know my
other
job
(other than being a full-time wife and mommy)
is working as the Nursery-Preschool Director at our church. It's only supposed to be about 10 hours of work a week, but as with most jobs in ministry, it frequently takes up just a
smidge
more time. ;)
As with any job, some weeks things go smoothly, and some weeks they don't. Sometimes it's frustrating and sometimes it's not. Sometimes it wears me out and sometimes... well, it usually always wears me out in one way or another - BUT it's a job that comes with rewards of a different variety.
My
job
is to recruit volunteers, organize schedules, keep nurseries clean, prepare Sunday school lessons and crafts, and things along those lines. And to be honest, a lot of the time you don't get to really see how any of that makes a difference. But I also
volunteer
teaching a Sunday school class every week and that's where I get to see that work actually in action.
I get to see the kids enjoy playing with the toys that they could easily find since they were organized. I see them engaged in the activities from the lesson, I see them enjoy making a craft that goes along with our Bible story. And I see them
remember
what they learned when they tell their parents about it.
In teaching those two and three year olds about God's love each week, I find I learn a lot myself. It's amazing how a lesson simplified to be understood by preschoolers, can reach the heart of an adult in a completely new way. And God's timing is nothing if not perfect - He has a specific message for me exactly when I need it.
It's made me realize that many times I can over-complicate my relationship with God. That many times whatever barriers I think are there, I put there. God is always right there, waiting for me to turn to Him. If I feel far from Him, it's because I've turned my face in the other direction - never because He's left me.
"God has said,
'Never will I leave you;
never will I forsake you.'
So we say with confidence,
'The Lord is my helper; I will not be afraid.
What can man do to me?'
Hebrews 13:5b-6
So today I'm thankful for the simple lessons
I'm
learning
in the 2s&3s Sunday school class that I
teach
.