It's been a little while since I linked up with Shell's
'Pour Your Heart Out'
- I've missed it! And I'm glad I can join in again today.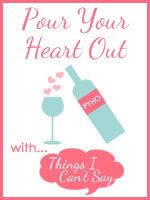 This week, it's crunch time. Just a few days left until
Dam to Dam
- the 20k my sister-in-law and I have been training for. I thought this week I'd have to deal with nerves, but that otherwise I'd be fine. Unfortunately, it hasn't turned out that way. Instead, I've not been at 100%
(like I hoped I'd be)
.
Last week, I hit my goals and felt good
(albeit sore)
. I hit that 10.5 mile mark and thought I was well on my way to being ready for 12.4. But then this week - OH this week!
Monday, my sis and I planned to try for a 12 mile run. I didn't even make it to 3.5 miles. I felt sick enough I had to stop and sit down - which
never
happens to me. I was beyond discouraged - but my awesome sis and running buddy encouraged me every step - reminding me of all the goals we'd already hit.
So yesterday we decided to try again and.... We. Did. It. I'm still in shock this morning! Now, I still wasn't at 100%. I did have to stop and take a break (which I don't normally have to do) but then I was able to get back up and finish it. WE FINISHED IT!
I can tell you this: I wouldn't have been able to do it without my sister-in-law. Amber was there to encourage me and support me through every step. She didn't give up on me and didn't let me give up on myself. I am so incredibly thankful for her!
And I can tell you my Lord carried me through the whole thing. I prayed through the majority of our run and if I hadn't - I would have stopped. The verses He kept bringing to my mind were these:
"But those who hope in the LORD
will renew their strength.
They will soar on wings like eagles;
they will run and not grow weary,
they will walk and not be faint
."
Isaiah 40:31
Let us throw off everything that hinders
and the sin that so easily entangles,
and
let us run with perseverance the race marked out for us
.
Let us fix our eyes on Jesus,
the author and perfecter of our faith
Hebrews 12:1b-2a
Now, there are just 3 days left until
Dam to Dam
. I won't be the fastest runner out there on Saturday. I won't be the strongest. I won't be the best. But I'll be consistant. I'll be faithful. I won't give up.
And I'd venture to saw those things are more important than being the fastest
or
the best.
Join us and 'Pour Your Heart' out this week!
............
As a little "bonus" for you all today, click
HERE
for a sneak peek of my new blog design!
(all done by my amazing husband)
The new "look" will be making its debut soon!