Taking some time to
'Pour My Heart Out'
on this Wednesday.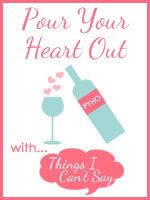 It's been nearly 3 months since
our loss
. Since we said goodbye to the child we won't get to meet this side of heaven.
Some days 3 months feels like an eternity. Others it feels like just yesterday. I suppose that's the same for any kind of grief.
It comes in waves.
One moment the tide is low, I can breathe and move freely. The next moment the tide has swallowed me up and I can't get any air in my lungs.
My saving grace is
grace
itself. I have a life preserver that never fails me. One that gives me air when I feel like there's no way to get a breath. One that holds me together, when I'm sure I'm going to crumble into pieces.
So do not fear, for I am with you;
do not be dismayed, for I am your God.
I will strengthen you and help you;
I will uphold you with my righteous right hand.
I'm still figuring out how to walk out this path He's set me on. Still trying to figure out how to fully lean on Him when every ounce of my flesh wants to take matters into my own hands. I've certainly been stumbling more often than not lately, but I won't quit trying.
He won't let me.
He calls me forward. Calls me to take that next step, and then another. He's moving me forward to a new place. A place where I'll be closer to Him than I was 3 months ago. I just have to take that next step.
And then another.
"'For I know the plans I have for you,' declares the LORD,
'plans to prosper you and not to harm you,
plans to give you hope and a future'"