It's Wednesday and that means it's time to Pour Your Heart Out!
Go
HERE
or click the button to join us!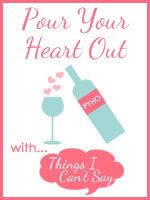 Do you ever feel like you're on the outside looking in?
I do. Frequently.
More often than not, I feel like the "outsider" – like the one who isn't quite part of the "group." In many cases, I don't think it's actually the truth. Most of the time I'm probably accepted and considered a part of the group – but somehow, I still don't feel that way. No matter how hard I try to feel otherwise.
I've come to realize this is part of my own insecurity, and not necessarily anything anyone else is doing. It's something I've struggled with for years. And somehow, I've never quite gotten past it.
Like any kid or teen, I had my struggles with feeling awkward. But it seems that at 30 (still weird to say that) I still feel like that awkward teen sometimes.
I've even had the thought that a person (or persons) is just being nice, and doesn't necessarily "like" me. How terrible is that? I know it's not fair to the other person. But somehow I just can't seem to get around the thought that people won't really LIKE me – they'll just tolerate me.
Maybe I'm holding back more than I should – trying not to let too much of myself out. That way I'm less likely to get hurt. I've had plenty of experiences with sharing my whole self, only to be brushed off and forgotten about later. Or I'll be the one wanting to get together, to celebrate a birthday, to chat on the phone – and it's not reciprocated. Or I'll be 'replaced' by someone else.
I guess maybe I'm more guarded than I used to be, due to past hurts.
It's something I've worried over
quite a bit
a lot
more than I should. It goes hand-in-hand with worrying about what people think of me. And you know what? It doesn't matter what
people
thing of me. It matters what
God
thinks of me. And yet I still let myself get caught up in what others think about me, or if they like me (or not).
A
friend of mine
shared recently,
"I strive to remember that while I may be rejected by man, I am accepted in Christ. It is He and He alone who justifies me."
It was exactly what I needed to hear at the time (and what's funny is, it wasn't intended for me – but God used it!)
So now, I'm trying to continually remind myself that God accepts me. Christ has accepted me – every broken piece. So what does it matter if I'm not fully accepted by man? It doesn't matter. My flesh longs to be accepted by my peers, but the fact of the matter is:
I don't have to be
.
I'm accepted.

I'm loved.

I'm justified.

By Christ, my Savior.

"But because of his great love for us, God, who is rich in mercy, made us alive with Christ even when we were dead in transgressions—it is by grace you have been saved.
And God raised us up with Christ and seated us with him in the heavenly realms in Christ Jesus, in order that in the coming ages he might show the incomparable riches of his grace, expressed in his kindness to us in Christ Jesus.
For it is by grace you have been saved, through faith—and this is not from yourselves, it is the gift of God— not by works, so that no one can boast."
Ephesians 2:4-9
And even if no one else on this planet truly accepts me, I know three guys that do. What grace from God that He would bless me with such an amazing husband and kids that love me, accept me, and like me. They really like me! ;)