Going to try something a little different this week. Although, not TOO different, since I seem to do this on a regular basis: Pour my heart out. It's a series that was started by
Shell @ 'Things I Can't Say.'
I know some other ladies who participate, and thought I'd join in as well. Go
HERE
if you want to see more of what it's about.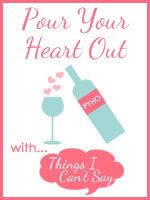 Now, this kind of just works with that topic… because there is a new series I'd like to start. One I'll call "I'm Trying to Quit…" To discuss some of those nagging, negative, or just not helpful behaviors I
(and many of us)
struggle with.
Today's topic?
Comparison
.
I know this is something so many women struggle with, and I'm certainly no exception. It can take any number of forms.
Clothing, hair styles, weight/size, complexion.
Intelligence, wit, conversation ability.
House cleaning, cooking, other "domestic" skills.
We can beat ourselves up over things that – let's face it – many people don't even think about. Before we're married, we compare ourselves to other single women. After we're married – and then have kids – we compare ourselves to other wives and moms. For me, it's been a huge struggle. Some days I find myself constantly comparing myself and worrying over things I do, don't do, or don't do well enough.
The thoughts that run through my head are usually a little something like…
"I need to be in better shape."
"My house should be cleaner."
"I have no decorating skills!"
"Why can't I just do that the way she does?"
"I bet SHE doesn't stress over this."
"Why can't I have it all together the way she does?'
Comparison isn't my only struggle, of course.
(But you knew that already)
My husband tells me often he wishes I wouldn't be so hard on myself. You see, he doesn't worry about ANY of those things. He loves me. He loves our family. And he knows I do my best with everything. So, I know it frustrates him when I beat myself up this way.
And you know what? I would be willing to bet that most of our husbands (or our close friends, for the single ladies) feel the same way. They don't worry about whether or not we "measure up" to some other woman or women. They love us the way we are – the way God made us – faults and all. And they want to see us happy and content – instead of stressing over these things that DON'T matter.
Now, don't misunderstand – I think taking good care of ourselves, making our house a warm & inviting home, and being educated are all good things. All things we should do. But what we
shouldn't
be doing is comparing ourselves to other women and how they accomplish those same things. God made us each so unique, so individual, that it doesn't make sense to compare ourselves this way.
For you created my inmost being;
you knit me together in my mother's womb.
I praise you because I am fearfully and wonderfully made;
your works are wonderful,
I know that full well.
My frame was not hidden from you
when I was made in the secret place,
when I was woven together in the depths of the earth.
Your eyes saw my unformed body;
all the days ordained for me were written in your book
before one of them came to be.
Psalm 139: 13-16
Let that soak in for a minute. God knit us together. We are
fearfully
and
wonderfully
made. He ordained
all
our days before we were ever born. And I would be willing to bet
(even though I'm not a betting woman)
that He didn't intend for us to spend our days worrying, fretting & stressing over whether or not we are like (or not like) someone else.
This has been something I've been convicted about lately. How much time have I
wasted
worrying about these things? A lot. What good is it doing me? None.
So let's add another
resolution
goal to the list. I will strive to be content. To be focused on the woman God made me to be, instead of how I'm not the woman next door. How could that lead to anything but happiness and a closer relationship with my Savior?
I am not saying this because I am in need,
for I have learned to be content whatever the circumstances.
I know what it is to be in need, and I know what it is to have plenty.
I have learned the secret of being content in any and every situation,
whether well fed or hungry, whether living in plenty or in want.
I can do all this through him who gives me strength.
Philippians 4:11-13